About Us
Lucky Rabbit Imports Australia imports from all over the world and wholesales mainly to Australian retailers, though we have a loyal following from retailers in other countries, such as Singapore, South Africa, New Zealand and other countries in Oceania. Lucky Rabbit Imports Australia features a wide and exotic collection of gift and homewares ranging from lifesize, wall mounted, mirrored bulls heads to Murano style 'Cornucopia on Dolphin' champagne glasses or enormous coloured glass hurricaned chandeliers. We work in all media, from Silver plated brass garnitures mounted on marble, to diamond cut flashed glassware, to art porcelain vases, to the more practical nickel plated brass or stainless steel champagne buckets. Whatever your selection, you will see we like the "Wow Factor", and all our product ranges have this in abundance. So if you are a retailer, why not register now and check out our amazing range of products.
Sean Martin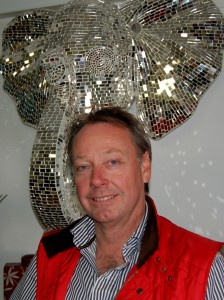 I began my importing and wholesaling career in 1985, with ranges of artificial plants and flowers, which don't ask me how, evolved into a huge range of extravagant ornaments and garden pieces in bronze and marble. I sold that company in 1999, and it still trades at the fairs today. That was a momentous year, I sold the business, moved house, and we took our first safari. After nearly a year of carefree living, I started a new business, Lucky Rabbit Imports Australia, and continued with the tradition of supplying Australasia with Wow Factor.
It was a conscious decision in 1985, to carry high end, high quality merchandise. It depresses me no end to walk the fairs and see stand after stand, all stocking the same product, and I dare say, our customers feel exactly the same. Quality sells itself. It does not need pushing like mediocre stock. Furthermore, I design many of our ranges. I like to have unique and individual ranges that stand out. Yes, it is true, we don't do beige.
We specialise in accent pieces, and Wow Factor. The beauty of designing many of these ranges means that we have complete exclusivity within Australia for nearly a year, before they get copied and cheapened. We are not cheap. Our ranges are keenly priced, and affordable, but that old adage is true, you get what you pay for. As an example, our candelabra are marble based, solid brass, silver plated and then lacquered, and I think are remarkably well priced. Even our nickel plated ranges are nickel plated brass and dishwasher friendly. We do not stoop to nickel plated tin, stamped out en mass in China. Occasionally we do make a foray into the realms of the 'quite nice really,' but only when the design is clean, and the quality is excellent for the price.
We have several philosophies by which we operate:
Business must be fun. Fun for us, and for our customers.
Stock must sell itself. Any good salesman can sell something once. If the re-orders do not come in, it is a dud line.
Good coffee. Probably our third governing principle, we like good coffee. Our beans arrive weekly from Perth's number one boutique coffee roaster, and we serve this in the warehouse, and on the stand at fairs. Actually, with warning, we will have cake, and honestly, any excuse will do. Should you visit our showrooms and warehouse, which are just five minutes from Fremantle, please bear this in mind!
These principles tend to lead to long term relationships with our customers, indeed, many have been dealing with me from the early 90's. These customers are usually the high end, High Street stores. You know the names, in the retail world, they are all very highly respected. Our total lack of a minimum spend has always delighted new clients. We work with an old Taoist tradition, We Grow Together. Any minima are due to packing, and sometimes, we can even alter that. It is not unusual to receive a small opening order. Once confidence is gained, the orders invariably get larger.
Looking forward to seeing you soon,